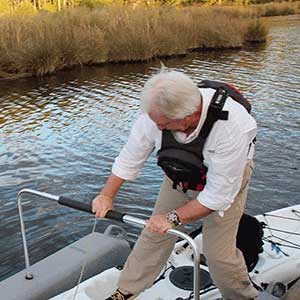 YAK-A-LAUNCHER
$1325.00
If a sandy-beach is in your backyard, then you may not need a YAK-A LAUNCHER™, but for the rest of us, we need something to make the risky task of entering and exiting the boat safe and simple.
The patented YAK-A-LAUNCHER™ does this beautifully while adding the awesome feature of portability!
Of course we think the YAK-A-LAUNCHER™ is amazing, but don't take it from us, read what our users have to say.
Please Note: There will be a price increase effective on July 1st, 2021.
The YAK-A-LAUNCHER™ utilizes a series of Nitrile-padded rollers between the heavy-duty roto-molded (HDPE, UV stabilized) pontoons that keeps your boat from being scratched or damaged. The rollers ARE NOT on an incline (you just can't paddle up a ramp!), making entry and exit simple and easily performed without assistance from others! While in the Launcher, the boat simply cannot turn over!! Tying the bow of the kayak or canoe off to the handrail of the patented YAK-A-LAUNCHER™ is a "MUST", as it keeps the boat in place while you get in or out of it. Adding a stern-line will keep the craft in place for extended periods or in heavy wind or wave conditions. The patented handrail spans both pontoons and is essential for safe and easy boarding/de-boarding your kayak or canoe. The handrail makes it possible to use the YAK-A-LAUNCHER™ at any distance from dock to the water. The separation can be 10" or 10,' just use a ladder to get to the Launcher and go! You don't need to install a step-down "dock" to get to your boat! Launching and re-entering your boat could not be simpler, or safer! It won't take but one time to see why people say the YAK-A-LAUNCHER™ is a portable version of a kayak dock
Outside dimensions - 60" x 60", individually the pontoons measure 60" x 12" (X 4 sides)
Inside dimensions (max width of boat) - 36"
Handrail height (while sitting in a kayak) - 27"
Pontoons made (roto-molded) of high density polyethylene, Uv stabilized.
Metal parts are sch. 40 brushed, clear-anodized aluminum (app. 40').
Connections pins are stainless steel, washers are SS or HD nylon.
Rollers (3) are PVC covered with Nitrile padding.
Total weight is 56 lbs.
It is very well constructed, and should last a lifetime!