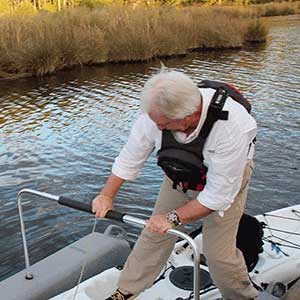 YAK-A-LAUNCHER
$1495.00
If a sandy-beach is in your backyard, then you may not need a YAK-A LAUNCHER™, but for the rest of us, we need something to make the risky task of entering and exiting the boat safe and simple.
The patented YAK-A-LAUNCHER™ does this beautifully while adding the awesome feature of portability!
Of course we think the YAK-A-LAUNCHER™ is amazing, but don't take it from us, read what our users have to say.
The YAK-A-LAUNCHER™ utilizes a series of Nitrile-padded rollers between the heavy-duty roto-molded (HDPE, UV stabilized) pontoons that keeps your boat from being scratched or damaged. The rollers ARE NOT on an incline (you just can't paddle up a ramp!), making entry and exit simple and easily performed without assistance from others! While in the Launcher, the boat simply cannot turn over!! Tying the bow of the kayak or canoe off to the handrail of the patented YAK-A-LAUNCHER™ is a "MUST", as it keeps the boat in place while you get in or out of it. Adding a stern-line will keep the craft in place for extended periods or in heavy wind or wave conditions. The patented handrail spans both pontoons and is essential for safe and easy boarding/de-boarding your kayak or canoe. The handrail makes it possible to use the YAK-A-LAUNCHER™ at any distance from dock to the water. The separation can be 10" or 10,' just use a ladder to get to the Launcher and go! You don't need to install a step-down "dock" to get to your boat! Launching and re-entering your boat could not be simpler, or safer! It won't take but one time to see why people say the YAK-A-LAUNCHER™ is a portable version of a kayak dock
Outside dimensions - 60" x 60", individually the pontoons measure 60" x 12" (X 4 sides)
Inside dimensions (max width of boat) - 36"
Handrail height (while sitting in a kayak) - 27"
Pontoons made (roto-molded) of high density polyethylene, Uv stabilized.
Metal parts are sch. 40 brushed, clear-anodized aluminum (app. 40').
Connections pins are stainless steel, washers are SS or HD nylon.
Rollers (3) are PVC covered with Nitrile padding.
Total weight is 56 lbs.
It is very well constructed, and should last a lifetime!
I am proud to own
I am proud to own one! So much in fact I want two more!
Rich B.
We 100% recommend the launcher.
My wife and I are avid kayakers, but the shoreline of our lake access is very muddy and rocky — not at all suitable for landing a kayak. When we first started kayaking we'd get into and out of the boats using a swim ladder, but that is difficult, particularly for my wife who has some mobility issues. Many years ago we purchased a kayak launcher from Get Kayakative. This proved to be a fantastic upgrade. Tied to our dock, the launcher makes it easy for us and our friends to get safely in and out of the kayaks. No getting wet, no worries about tipping over, or about damaging the kayaks on rocks. It's a great device.
The launcher lives outdoors on our dock year round, and is in the water much of the summer. It has held up extremely well, despite being exposed to the weather. I have replaced the rollers once. Al was most supportive in getting me what I needed, and replacing them was simple — required no tools.
We 100% recommend the launcher. I think it is an absolute requirement if you routinely launch from a dock, and in many ways better than launching from shore, even if you have a gentle sandy beach.
Stephen D.
The Kayak Launcher was so well designed, manufactured and easy to assemble, and more important, use.
Thank you. Mr. Privette, just a note of thanks for helping last weekend with my son picking up our launcher, but changing the arrangements. The Kayak Launcher was so well designed, manufactured and easy to assemble, and more important, use. I tried it out, thinking I would put on a real show for those looking on, and the kayak was easy to get into, launch, retrieve and exit. Much better than our existing kayak arm. We have five kayaks in our rental home, and will be putting bow ropes on all of them, using your hardware. Thanks again!
Dave H.
Very happy with it. Thanks for making such a good product.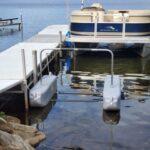 Al, we just this weekend got everything squared away. The launcher works very well, I must say.
We can't go in and out of the bay with much momentum, but the kayaks travel smoothly on the rollers, enough for us to push ourselves in and out.
One thing I learned about using this type of aluminum dock: the launcher will travel underneath the dock when you step on it.
So I moved a straight dock bumper from the boat end to the side of the launcher, and it keeps the platform from moving underneath.
It is also a handy brace to hold on to when getting on to the dock. We step between the bumper and the crossbar to get in and out.
Thought you'd like to know, in case anyone else has the same situation.
Very happy with it. Thanks for making such a good product.
Cheers,
Paul
Paul P.
Absolutely love my Yak-A-Launcher
I absolutely love my Yak-A-Launcher. Absolutely would be unable to kayak without it. The launcher is tied up along side a finger pier. I can just step on and off the kayak with ease. I am 72 years old.
Thanks again.
Dave E.