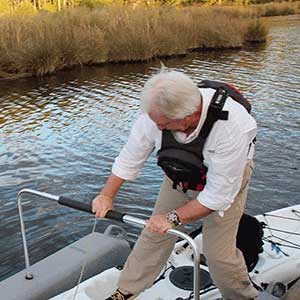 YAK-A-LAUNCHER
$1495.00
If a sandy-beach is in your backyard, then you may not need a YAK-A LAUNCHER™, but for the rest of us, we need something to make the risky task of entering and exiting the boat safe and simple.
The patented YAK-A-LAUNCHER™ does this beautifully while adding the awesome feature of portability!
Of course we think the YAK-A-LAUNCHER™ is amazing, but don't take it from us, read what our users have to say.
Please Note: There will be a price increase effective on July 1st, 2021.
The YAK-A-LAUNCHER™ utilizes a series of Nitrile-padded rollers between the heavy-duty roto-molded (HDPE, UV stabilized) pontoons that keeps your boat from being scratched or damaged. The rollers ARE NOT on an incline (you just can't paddle up a ramp!), making entry and exit simple and easily performed without assistance from others! While in the Launcher, the boat simply cannot turn over!! Tying the bow of the kayak or canoe off to the handrail of the patented YAK-A-LAUNCHER™ is a "MUST", as it keeps the boat in place while you get in or out of it. Adding a stern-line will keep the craft in place for extended periods or in heavy wind or wave conditions. The patented handrail spans both pontoons and is essential for safe and easy boarding/de-boarding your kayak or canoe. The handrail makes it possible to use the YAK-A-LAUNCHER™ at any distance from dock to the water. The separation can be 10" or 10,' just use a ladder to get to the Launcher and go! You don't need to install a step-down "dock" to get to your boat! Launching and re-entering your boat could not be simpler, or safer! It won't take but one time to see why people say the YAK-A-LAUNCHER™ is a portable version of a kayak dock
Outside dimensions - 60" x 60", individually the pontoons measure 60" x 12" (X 4 sides)
Inside dimensions (max width of boat) - 36"
Handrail height (while sitting in a kayak) - 27"
Pontoons made (roto-molded) of high density polyethylene, Uv stabilized.
Metal parts are sch. 40 brushed, clear-anodized aluminum (app. 40').
Connections pins are stainless steel, washers are SS or HD nylon.
Rollers (3) are PVC covered with Nitrile padding.
Total weight is 56 lbs.
It is very well constructed, and should last a lifetime!
David Tweedie
I purchased a YAK-A-LAUNCHER™ from you 10 years ago and have enjoyed it! Thanks for making kayaking enjoyable and safe for all ages young AND old!! With two replaced hips the launcher allowed me to kayak for many years after I thought I couldn't. THANKS
Charlie Findley
I must apologize for my delinquent response.  I received your amazingly well protected, crated/parts of the YAK-A-LAUNCHER™, etc., early last week.  You've obviously had extensive experience with protectively wrapping/packing, given what we experienced with unpacking the carefully constructed and wrapped parts.
Weather and schedules didn't permit me to assemble them immediately, but my grandson and I are planning to do that tomorrow, and look forward to many excursions enabled by your incredibly inventive solutions.
Patricia Zeller
Judi and I want to thank you for your brilliant and flawless design, development, and production of the YAK-A-LAUNCHER™!!!! We are now able to get out on the pond safely. We enjoy kayaking so much and it is now possible!!!! In addition, your pleasant and supportive customer service is appreciated! Thank you so much!!!
John and Alexandra
We bought one of your YAK-A-LAUNCHER™ MANY years ago and have enjoyed it tremendously. We've have had the YAK-A-LAUNCHER™ from the very first inception of the concept and still use it now. We have a very high floating dock so the launcher really helped us enjoy the whole process of kayaking much more and much more easily. Over a decade later, and with a few more rickety bones, it's even more appreciated now than ever. Plus Al has been very kind and supportive with a small part replacement. We couldn't be happier with the product AND the service.
Happy kayaking.
Debra
I received the YAK-A-LAUNCHER™ and I love it. It is just what I wanted.
Thank you so much.